Contact us for a
FREE rental analysis and FREE one month's management!
407-801-6800
info@oirhomes.com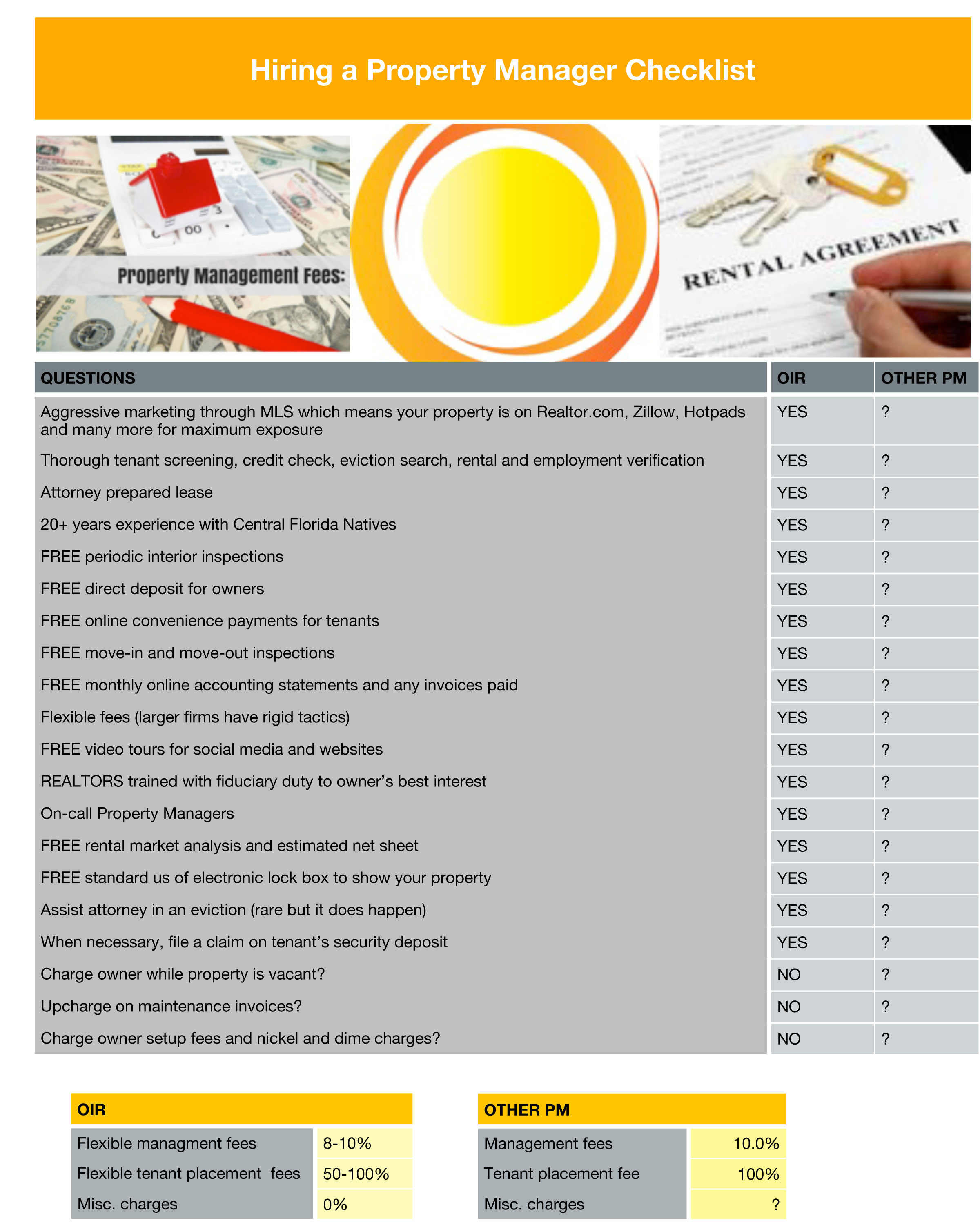 Want to rent your home?
If you own rental property, ask yourself these questions and see below for information on our services:
Are you forced to keep up with the ever-changing fair housing laws and other legislation regarding tenancy, including lead-based paint and toxic mold policies?

Are you concerned about the possibility of a tenant suing you…and winning?
Do you have to deal with the collection of rents, late payments, and bounced checks?
Do you dread confrontation with tenants, trying to convince them to take care of the property better or start paying their rent on time?
Do you cross your fingers, hoping that you won't have to deal with the move-out / advertising / move-in process that occurs between tenants?
Do you struggle with the process of advertising and showing your vacant home, interviewing tenants, taking applications, and running credit and background checks?
Do you sometimes feel that you spend all of your time collecting checks, paying vendors, and performing all of the accounting necessary on your rental?
Our qualified staff consists of Licensed REALTORS® who are dedicated and dependable. We have comprehensive qualification process for our tenants. It is our experience, qualified tenants will take care of your property and pay rent on time. We have a computerized accouting system where you can log in to view your monthly statements and invoices. It is our pleasure to answer any questions you may have, please feel free to contact us at (407) 801-6800 or via email info@oirhomes.com
Marketing Highlights for Your Listing:
Listing in Mid-Florida MLS (accessed by 8,000 Agents)
Web Presence: Listings in 50 affiliate websites.
Maximum Exposure online marketing approach
Complimentary Custom video tours of your property
Complimentary e-flyers and printed flyers
OPTION I: Tenant Placement
Provide a Rental Pricing Analysis to establish the Monthly Rental Rate.
As REALTORS®, your home will be placed on the MLS which syndicates to Realtor.com and several other websites.
We cooperate with other Property Management companies and REALTORS®, .
Interview, screen and complete a comprehensive tenant application including: References, Employment and Rental History.
Full background check including: Credit, Criminal, Eviction, Court Records
Upon qualification of tenant we handle ALL the paperwork and compliance: Lease agreements completed by our Attorney, Deposits, Forms, Addendums and other Lease documents. Access to Legal Counsel as needed.
OPTION II: Full Management:
All of the aspects with the Tenant Placement.
Collect Monthly Rent Payments. Deposit rental payments directly into your Bank Account.
Issue Account Statements. You have access to an online owners portal with information about your account, maintenance requests, property leases etc.
Handle all communication with tenant and owners.
Respond quickly to maintenance issues personally or through a skilled trade.
Regular inspections of property to include a report with pictures. The inspection can also be done via skype so you see what we see.
Renew existing leases at market rents.
OPTION III: A la Carte Options:
Limited Service Rental Listing
Signature 4-point background check
Contractor Follow up
Click HERE for more details.
Click here to view our FEE OPTIONS to choose from to best meet your budget.
Looking for a good article about fees, click here Property Management fees….you get what you pay for.
Call / Text Now 407-801-6800